November 1st, 2007 | by a2jz | Published in Generativity
CAPTCHAs are those squiggly words we're asked to type in, designed to tell computers from humans on the Net, e.g.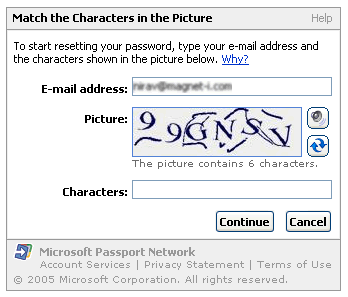 (The acronym stands for "Completely Automated Public Turing test to tell Computers and Humans Apart.") Luis von Ahn is interested in ways to constructively harness people's idle time to solve tough computing tasks — like tagging photos — and he suggested that spammers could find a way to persuade people at large to solve CAPTCHAs in real time so that spammers could then leave their automated comments on others' blogs. Now BBC reports that it's in motion: a game that exchanges porn for CAPTCHA solving —
— with the solved CAPTCHAs being plugged in where the spammers want to spam.
Evil genius! And a great example of how the generative Net can facilitate abuse in proportion to how popular the platform becomes.